Kids Summer Holidays Computing Camp in Glasgow – Week 5
It was the fifth week of the BYITC Kids Summer Holiday Computing Camp based at our campus in Firhill, Glasgow.
Let's round up what the students did this week.
A quick reminder that you can get more information about the entire course by clicking HERE.
2D Games Development and Powerpoint
On top of consolidating and improving on skills and knowledge already gained over the past 5 weeks, this week we gave the students a comprehensive look at Powerpoint. Before we get to the excitement of Powerpoint let's go over the first part of this weeks class.
As already mentioned this week was about reinforcing lessons already learned which included how to download and then install various different types of programs and software. We also went over the exact definition of what makes a game, how games are made, understanding the meaning of layout as well as actors, backgrounds, scenes and sounds. The students were also run through the importance and execution of testing created games.
Behaviours, events and peer game testing were also covered before we moved onto consolidating lessons about Multiplayer games. This included adding collectables to games, drawing a scoreboard, connecting to a network and playing games with other kids in the classroom.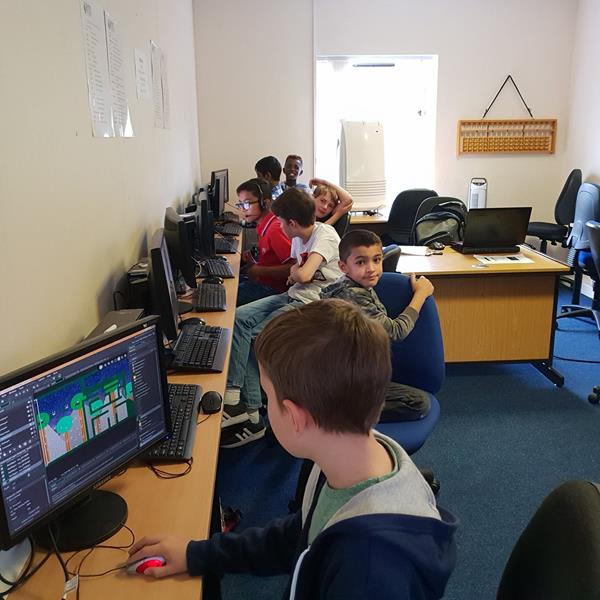 The new content for this week was an in-depth look at Microsoft Powerpoint. This is an important piece of software to know for most professional office environments as a lot of the time you might be required to give presentations and Powerpoint is often a good way of giving information.
Topics covered include opening and creating a presentation from scratch and understanding the pros and cons of things like animations, videos, images and text effects. The students were also shown to display a presentation they created as a slideshow like the would in an office for example.
All around it was a fun week with some new lessons mixed in with going over what had already been learned.