ITV SHOW – Little Big Shots 2018 – Human Calculators
Many Congrats Dhruv, Rhythm, Himani and Himanshi on ITV Show LITTLE BIG SHOTS with Dawn French. Here is a full video recording, Congrats to Proud parents Devender Singh and Manoj Maheshwari
The segment was called Human Calculators and Dawn French was absolutely blown away by their skills. The legendary comedian wasn't the only one as commentators on social media were equally mesmerized by the skills of the students.
STV 2 Show Live at 5pm – Dr Rashmi Mantri and Dhruv Maheshwari
Dr Rashmi Mantri, founder of the British Youth International College, was invited on to STV 2's "Live at Five" segment to tell the story behind running the SuperMaths classes and the success her son has encountered in maths since being introduced to the abacus. Live at Five is a Scottish topical entertainment programme which covers the latest in Scotland's cultural scene.The segment was called Human Calculators and Dawn French was absolutely blown away by their skills. The legendary comedian wasn't the only one as commentators on social media were equally mesmerized by the skills of the students.
The trick to their magic?
Coding is the new alphabet … but are your kids prepared?
The following is from an article titled "Coding is the new alphabet … but are your kids prepared?" published in the Herald Scotland by Karin Goodwin.
SCHOOLS need to prioritise teaching children how to write computer code according to leading academics who fear Scottish pupils could find themselves left behind unless they learn digital skills essential for success in the modern world.
Despite positive moves that have seen the introduction of digital skills on the Scottish curriculum from a young age in the last year, experts say action needs to be taken to ensure that there are enough teachers available to deliver essential technology lessons such as coding. Others argue "patchy" provision of school technology needs addressed with girls, in particular, provided with additional support and encouragement to break down the worrying gender imbalance in technology subjects.
I turned my child into a math wizz and now you can too
The following is from an article titled "I turned my child into a math whizz and now you can too" published in the Scottish Mail on Sunday by Kirsten Johnson.
WHEN Dr Rashmi Mantri discovered her nine-year-old son was struggling with simple sums, she decided to go back to basics.
Using an ancient technique she learned while growing up in India, she tutored Dhruv after school – with the help of an abacus.
Within weeks he had been transformed into a maths whizz and his classmates' parents began to get in touch to ask for help.
Now Dr Mantri, a former university lecturer, is taking her abacus tutoring to the masses after becoming disillusioned by the Scottish primary school curriculum. Hundreds of children attend her weekly Supermaths sessions in Glasgow's West End and South Side, while her first Edinburgh class was launched last week.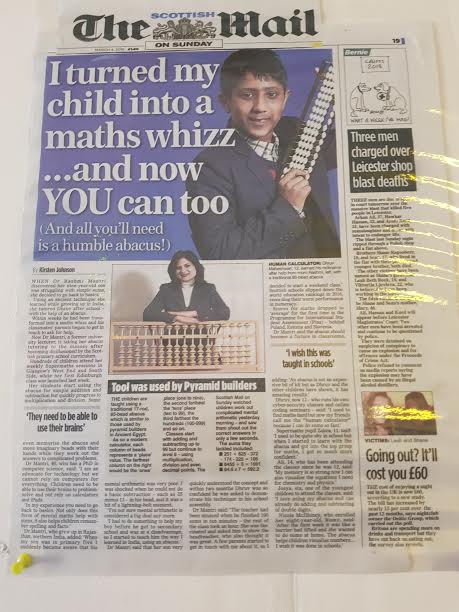 CISCO KID Dhruv is on Top Of The Digital World
At 13, Dhruv became the youngest person in the world to qualify as a cyber ops Cisco Certified Network Associate. It's an exciting achievement and all the more remarkable when you consider that not so long ago he was struggling to do simple sum in his head.
The term "Cyber Ops" probably has the most of us thinking of dark arts beyond the worldwide web with hackers shifting million of pounds at the click of a mouse and comprising the security of everything around the world from oil firms to military forces.
But Dhruv, now 14, a student of British Youth IT College run by his mum, Dr Rashmi Mantri, laughs off any suggestion that cyber ops is all about super criminals.
Dr Rashmi Mantri on BBC Radio Scotland
A discussion on coding, communication and modern skill requirements.
The main topic of discussion was the importance of computer coding skills over traditional inter-communication skills in the education of children.
Rashmi was asked about and offered her opinion on a number of topics which you can see below:
There is a skills shortage for IT skills as demonstrated in a report by recruitment firm Robert Walters, in partnership with Jobsite and Totaljobs. It shows that "65% of employers believe that they will face skills shortages in 2018".
Both coding skills and communication are important with a balance between the 2 required.
Technology is here to stay, to pretend otherwise is wrong. Therefore teaching children to code helps them a great deal.
The success of apprenticeships in coding would be greater if introduced to children at a younger age.
Year of Young People: How an ancient tool turned me into a maths whizz
I WAS inspired to learn coding at a young age because computers are the future. We are already depending a lot on technology, web apps, mobile apps and software day-to-day. I used to think about the code behind these software applications is, and I used to dream about the programming.
Every time I played a game, I came to my mum asking her questions: "How is this made?" "How does this work?", "Why is it that these move on their own?" "Can we edit or delete the code and change the functionality of the software?"
BBC Radio – Dr Rashmi Mantri interview with Kaye Adams
Dr Rashmi Mantri appearance on Kaye Adams BBC Radio show
Dr Rashmi Mantri, founder of Supermaths, was invited to speak with Kaye Adams on her BBC Radio show "The Kaye Adams Show".
"Should we ban the calculator from Scottish classrooms? Dr Rashmi Mantri from Glasgow said she felt a sense of shame when her son couldn't do simple sums at 8 years. She taught him the Asian abacus and went on to set up Glasgow's British Youth IT College offering abacus classes to young people."
Awaz FM interview – Dr Rashmi Mantri and Supermaths students
We are excited to announce that Dr Rashmi Mantri and some of the Supermaths kids will be interviewed tomorrow morning on Awaz FM's popular program AAjkal with Manjulika. Rashmi, along with pupils Zahra, Shona, Abu, Divena and Vidhi, will take part in the Awaz FM interview with presenter Manjulika about the benefits of learning abacus and the kids' experiences of studying the abacus method. Tune in to Awaz FM on 107.2 FM from 11am – 12pm to hear the interview live on air.
The Awaz FM interview will cover various areas of abacus maths and the Supermaths programme, as well as discussing our upcoming summer boot camp which you can read more about here. Dr Rashmi Mantri will be discussing some of the latest developments in Supermaths.