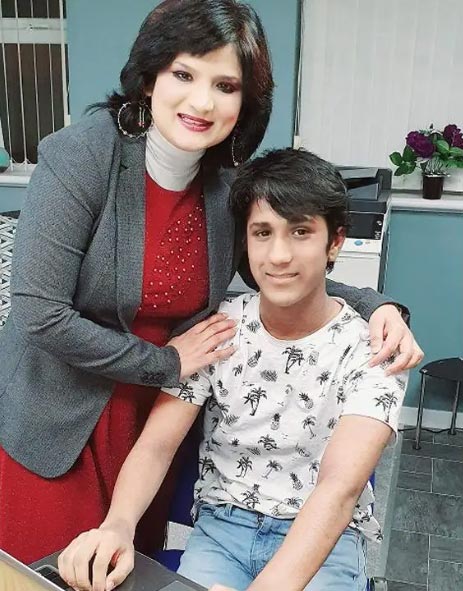 The Iron Lady and the Wooden Beads
Dr. Rashmi Mantri
Once the young girl was held back for studies is now spreading education in every possible way! Those all hard life lessons made her aware of all other ladies that have their foot in the same shoe…. and her way for this is employment; she has a 99% strength of female workforce at her place which makes them feel secure and woman-friendly. This testifies to her commitment and belief towards women's empowerment.
In this world of male dominance, there is a remarkable life that is placing exemplary landmarks globally for her successful existence in the Business world… Here we have DR. RASHMI MANTRI with us, from a small town Pushkar, India, who is proving herself to be one of the Most Promising Ladies in the World to change the traditional definition of a Lady as a whole!!
Dr. Rashmi Mantri who is currently working as a Director with her own company BRITISH YOUTH INTERNATIONAL COLLEGE LTD was the not-that-lucky baby who was born with a silver spoon..
Now she was running many physical centres for her courses operating across the two biggest cities of Scotland, Glasgow and Edinburgh, UK a mesmerizing e-learning software program for Abacus Maths that is also created and developed by her only is expanding to many parts of geography by the time but those were the days that rugged her so hard that she turns up into Diamond!
Having roots in Pushkar, Rajasthan in India, she had times when she faced the mindset where girls were meant to be get married early and handle the home chores; studies were just the hurdles in performing the traditional responsibilities. She was asked to stop her studies as they just want to spend on the male in the family. Her relatives were having thoughts of why spending money on the education of ladies for we have to spend on marriage as well!
She made her way to the UK after marriage where she put every effort to complete PG and PhD!! She finally achieved and characterised "where there is a will there's a way". She is a Gold medallist in MSc with the highest marks in the University of the West of Scotland. Also, she was chosen for an exceptional scholarship from the University of West of Scotland to pursue Doctorate, this "Double the Grant" was available only for one person in a year. Her numerous hard works got converted into a chance to work with one of the Finest Universities there!
If everything was fine then why entrepreneurship? One fine day she, asked her son, Dhruv, a simple Math question and he wasn't able to solve it at level Primary 5. At that time, she decided to teach him Maths using a very humble tool referred as Abacus. She made him learn the techniques of Abacus Maths and after a good time of investment now we have a Dhruv Maheshwari V.2. He is now able to do complex arithmetic calculations in his mind in an eye-blink!
Now when she finds herself as a blessed mother of a son being called a Human calculator, an idea clicked in her mind 'why just make your own child smart but all children around !' Her emotion of making every child smart entered into partnership with an opportunity of zero existence of Indian classes for Abacus there and she launched BYITC! Her own child sowed the seed of entrepreneurship.
Where she had already proved herself in the male-dominant IT sector with her knowledge and work. She was again ready to tighten her shoelaces for the next struggle as we all know that switching from a highly paid job to an entrepreneur is a hard nut to crack. She invested two years to map down the structure, curriculum and material!
Kind heart, passion, dedication and a big smile are the words that can make you find Dr Rashmi Mantri in every heart of BYITCians !! We, her natives, her family, all BYITCians are proud of HER… May she keep this noble work up always!