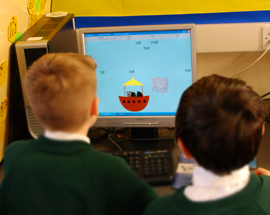 Our weekend IT classes offer your child the chance to explore the world of computers and Information Technology.
The classes are designed to let kids learn at their own pace in a safe, creative and nurturing environment. It's also a fun way to make new friends and build confidence and social skills.
We are proud to offer kids a friendly and supportive place to learn about computers. They will find out how to navigate and use computers effectively; as well as learn the computer software basics. We have a range of child-friendly computer based learning programmes to choose from. They cover: games development, web design, graphic design and mobile apps development. We are confident your child will benefit from these courses gaining confidence and acquiring valuable knowledge in basic computing.
Coding for children programme offers professional and highly qualified trainers who already work across the IT industry. They have devised these courses to engage children and equip them with important life skills.
Our weekend classes offer the ideal opportunity for your child to gain valuable IT skills in a fun and friendly atmosphere.
With school during the week and busy evenings, children may find it hard to find time for a hobby such as computing and learning how to use computer technology. Our weekend IT classes run on both Saturday and Sunday and all children are welcome.
Our weekend IT classes are excellent for encouraging kids to get a head start in understanding and using IT based programmes in a creative and interactive way!