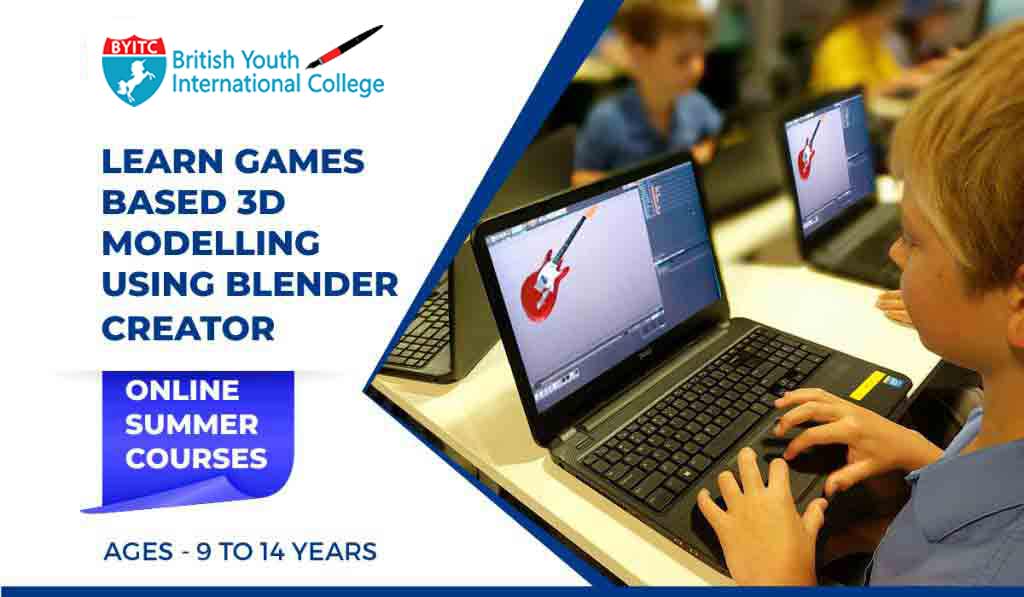 BYITC has launched an Online 3D Modelling Creation program for kids to Learn 3D Modelling Online using Blender. These classes have been developed for children aged 10 to 14, empowering them with the skills and encouragement required to create elegant 3D models using the popular Blender tool. These models can be created in a wide range of areas including 3D printing, video games, house design, and other areas of interest to students.
ONLINE – Summer (June to July) Courses (ONLINE Instructor Led –  4 Weeks)
What You'll Learn
Exploring more advanced features of Blender, compositing, video game asset creation & digital sculpture.
Apprehend the keyboard shortcuts & interface for the better efficiency
Learning animation, polygon modeling and rendering basics.
Discovering the software for its integration into your workflow
Course Syllabus
1. Discovering Blender
Introduction
Interface presentation, customization
Create 3D assets
Compose Scenes
Blender Configuration
2. Modifiers
Introducing non-destructive modifiers
Presentation and use of the main modifiers
3. Beziers Curves
General overview
Curves in Edit mode
Specific features of Curves
Modelling with curves and hooks
4. Character Rigging
5. Hard surface modelling
6. Materials & Textures
Unwrap Techniques
Texture paint mode, tools presentation
Using an image texture as brush
Using Line and Curve Strokes
7. The Armatures
Armature presentation and visualization
Armatures in Edit Mode
Parenting, organic or mechanical object
Composition of Online 3D Modelling Classes
Our Online 3D Modelling Classes will teach your child the following:
Using Blender and understanding its UI
Understanding the principles of modelling
Learning the basics of animation
Creating 3D models using simple colours
The course helps your child learn 3D modelling from the comfort home using online mode. Completing the course means learning how to create 3D Models and Assets for games and other forms of designs using Blender. This easy-to-learn course is designed to be super-simple, so your child can follow it without any or little experience. 
Benefits of Learning 3D Modelling
Our Online 3D Modelling Classes equip children with a new skill while offering many benefits:
Learning 3D modelling stimulates creativity and pushes children to the limits of their creative boundaries
Children get the opportunity to explore new paths that may fuel their interest and passion
Learning 3D modelling helps children enhance their motor control and technical skills
When kids Learn 3D Modelling Online using Blender, they develop stronger spatial thinking. This is a skill that is central to the creation of 3D objects. This further stimulates growth and development in the areas of Science, Technology, Engineering, and Mathematics, popularly known as the STEM disciplines.
Online 3D Modelling Classes also open up a new and promising career path for children. More industries now need 3D designers for projects ranging from 3D graphic design to 3D animation. The demand for 3D designers is expected to continue growing into the future as it will evolve. 3D design is an essential precursor to the present widely adopted technique of 3D printing. The concept of rapid prototyping is increasingly used in almost all industries to test designs before they enter the production phase. Our course can help your child Learn 3D Modelling Online using Blender and both prepare for the future and enhance their spatial intelligence.