The ONLINE ABACUS MATHS CLASSES offer a friendly and educational platform for students to use the ABACUS tool and apply the concepts online on the worksheets provided by SuperMaths Online Classes. 
Here at Super Maths Academy we offer a child-friendly introduction to the use of the Abacus, both the tool and ultimately the mental theory concepts.
Each of our abacus levels lasts at least 12 weeks.
THERE ARE TWO TRACKS OF THE COURSE
Junior Track – Junior Track has 11 Levels.
Senior Track – Senior Track has 8 Levels.
LOCAL TEACHERS
All the Supermaths Teachers are from local regions and have a lot to offer for children to learn, and this will allow them to master their arithmetic skills while the students are in the comfort of their homes..
ABACUS THEORY
Abacus exercises the brain to its unbelievable potential, using activities that require memory, concentration, analysis, visualization and control. These activities encourage the brain to remember arithmetic skills. As well as complete mental calculations faster than traditional Math with higher levels of accuracy.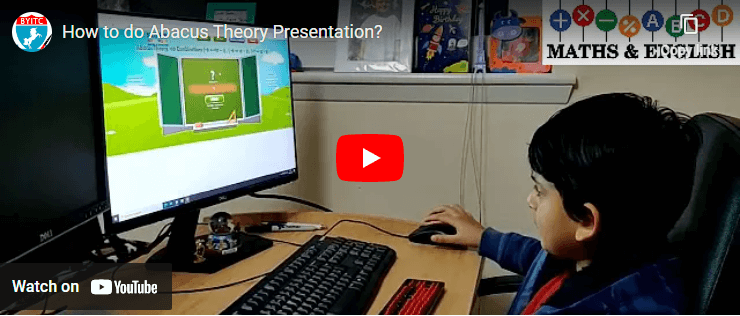 Practicing the Abacus Mathematics Tool is an effective way for children to master Maths and Mental Arithmetic Skills.
FINGER THEORY
Finger theory is the first step in learning abacus. Finger theory gives a great introduction to the mindset of abacus, use of the abacus tool is introduced alongside finger theory, and they complement each others learning.
Here, children learn to carry out calculations up to 99 quickly, using their fingers, using special combinations which they will be taught.
MENTAL THEORY
The Final, Hardest, but most impressive stage of the Abacus Technique is when our students learn to use Mental Theory. We teach them to visualize an Abacus in their mind. This is where the real strengths and usefulness of Abacus comes in, allowing students to carry out massive calculations quickly and correctly with no tool, other than their mind.
Read More – Research Validates Abacus Method of Maths Learning
ADVANTAGES OF ONLINE ABACUS MATHS CLASSES
Besides enhancing the overall comprehension of Maths – other important benefits of online Abacus Maths classes include the following:
Teaches Clearer Logical Reasoning.
Sharpens Concentration and Observance.
Develops Confidence.
Heightens stronger Mental Visualization Skills.
ONLINE EXAM & CERTIFICATES
Online Exam will be conducted at the end of each level.
Student will be progressed to next level only after the successful completion of exam.
Students who complete the Abacus Levels Successfully will be awarded with SuperMaths Abacus certificates.
First certificate will be issued once the student has completed four level exams.
Final Certificate will be issued once the student has successfully completed all the eight level exams.
BENEFITS OF DOING ABACUS TRAINING ONLINE
Abacus Supermaths is incorporated with one of it's kind features, which enhances the abacus learning process making it more interesting and enjoyable while practicing online for it..
Online Learning of Abacus Maths Classes
While doing Abacus training online you can view online learning tutorials, text book & instruction books at any time 24/7 as per your convenience.
Abacus Maths Online Examination
Students learning online can appear for online examination. This system evaluates the child with accuracy and speed by hassle free conduction, thus saving time and money.
Register for interest for a free Online Abacus Maths trial class on 30th April 2020 at 6:30 PM here: