Cultural and Social Category Winners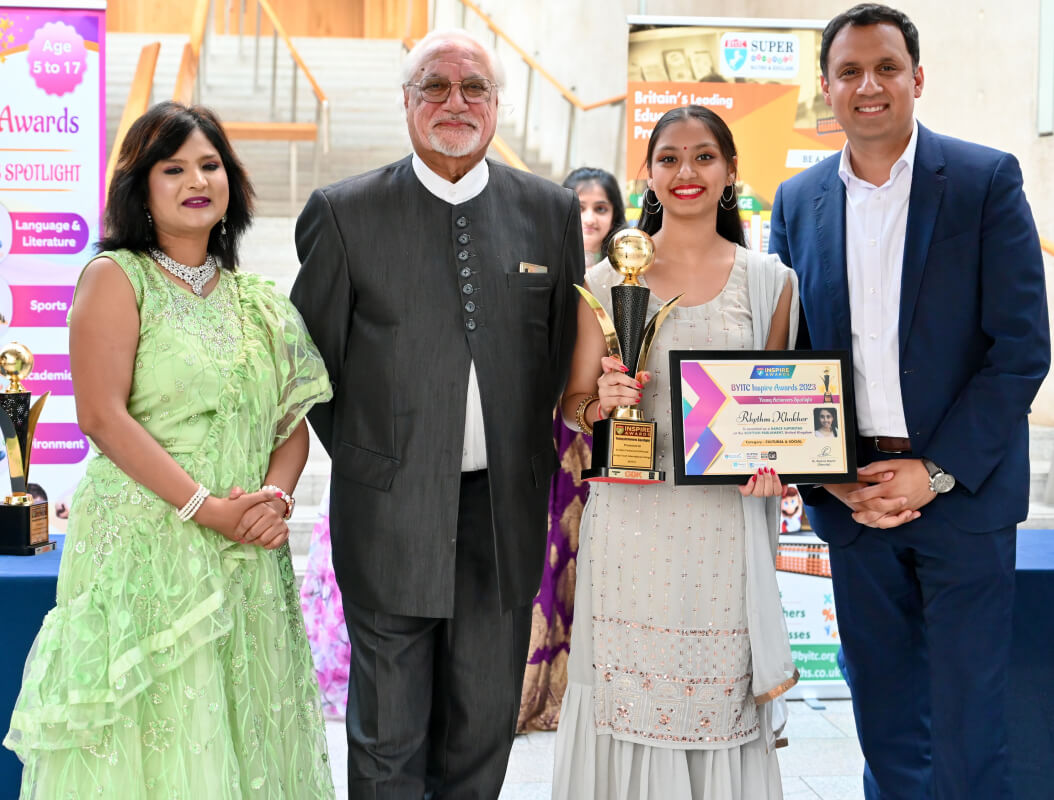 RHYTHM KHOKHER
DANCE SUPERSTAR
Meet 𝐆𝐥𝐚𝐬𝐠𝐨𝐰, 𝐒𝐜𝐨𝐭𝐥𝐚𝐧𝐝, 𝐔𝐊 based 𝐃𝐚𝐧𝐜𝐞 𝐒𝐮𝐩𝐞𝐫𝐬𝐭𝐚𝐫. This 15 year old represents 𝐒𝐭. 𝐍𝐢𝐧𝐢𝐚𝐧'𝐬 𝐇𝐢𝐠𝐡 𝐒𝐜𝐡𝐨𝐨𝐥. Rhythm is a trained Bharatnatyam Dancer and is also good at other dance styles such as Bollywood and jazz. She has done many stage performances and has also won multiple awards for her talent. She is a blue belt in Karate and is also passionate about singing, playing guitar, coding and many others.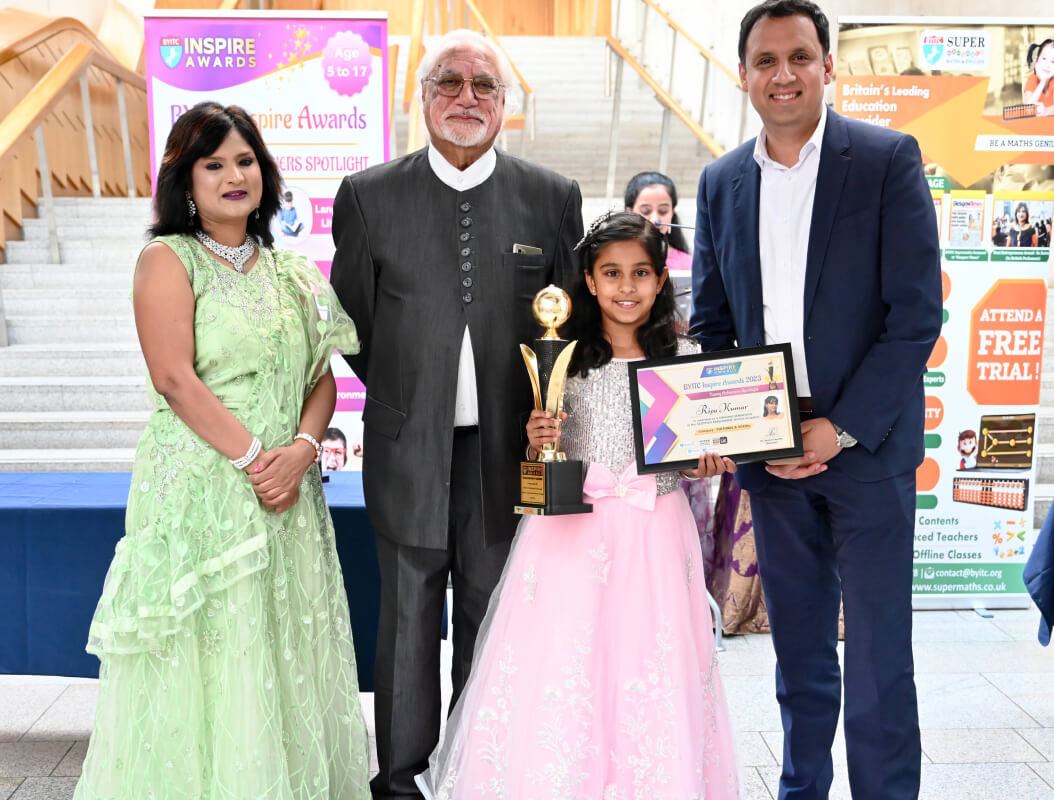 RIYA KUMAR
SINGING SENSATION
Meet 𝐋𝐞𝐢𝐜𝐞𝐬𝐭𝐞𝐫, 𝐄𝐧𝐠𝐥𝐚𝐧𝐝, 𝐔𝐊 based 𝐒𝐢𝐧𝐠𝐢𝐧𝐠 𝐒𝐞𝐧𝐬𝐚𝐭𝐢𝐨𝐧. This 9 year old represents 𝐊𝐫𝐢𝐬𝐡𝐧𝐚 𝐀𝐯𝐚𝐧𝐭𝐢 𝐏𝐫𝐢𝐦𝐚𝐫𝐲 𝐒𝐜𝐡𝐨𝐨𝐥.Riya is a very bright and bubbly girl. She started singing when she was 5 years old and is well known in her school and local temples, for her singing. Having enthralled audiences in numerous prestigious events and multiple awards ceremonies, she aims to make a mark in the field of singing and music.
IQRA KHAN
BEST YOUTH ICON
Meet 𝐋𝐨𝐧𝐝𝐨𝐧, 𝐄𝐧𝐠𝐥𝐚𝐧𝐝, 𝐔𝐊 based 𝐁𝐞𝐬𝐭 𝐘𝐨𝐮𝐭𝐡 𝐈𝐜𝐨𝐧. This 13 year old represents 𝐒𝐭. 𝐂𝐚𝐭𝐡𝐞𝐫𝐢𝐧𝐞'𝐬 𝐬𝐜𝐡𝐨𝐨𝐥. She is an author, poet, model, talk show host, dancer, social activist, and speaker. She organizes creative camps and grooms young girls and kids across the globe. She writes poems on social issues. She has won many accolades and awards including "Youngest Influence of Middle East" and "Miss Teen Southeast London". She is a co-author of a book called "Life is a Living Inspiration.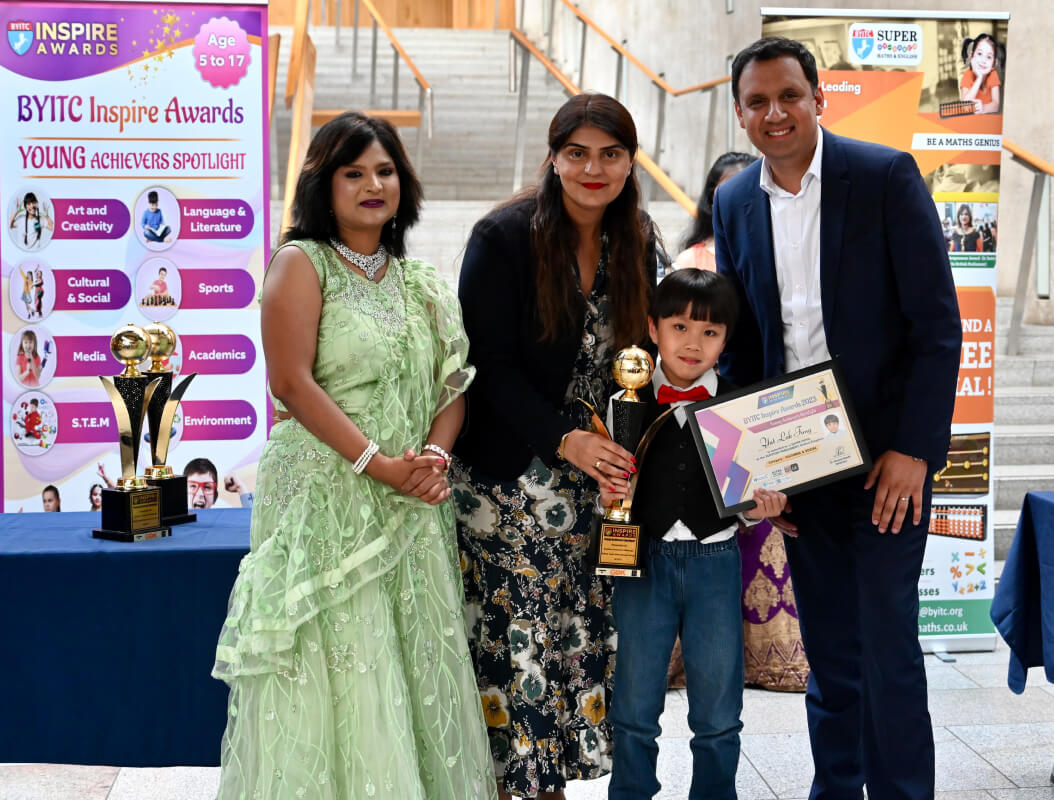 YAT LOK FUNG
SUPER NOVA
Meet 𝐌𝐚𝐧𝐜𝐡𝐞𝐬𝐭𝐞𝐫, 𝐄𝐧𝐠𝐥𝐚𝐧𝐝, 𝐔𝐊 based 𝐒𝐮𝐩𝐞𝐫 𝐍𝐨𝐯𝐚. This 8 year old represents 𝐎𝐥𝐝𝐟𝐢𝐞𝐥𝐝 𝐁𝐫𝐨𝐰 𝐏𝐫𝐢𝐦𝐚𝐫𝐲 𝐒𝐜𝐡𝐨𝐨𝐥. He is a happy, kind and brave child with a motto in life- AIM high, Strive and Thrive. He has Numerous achievements and his undying passion in the field of Musical Theater, Street Dance, Singing and Reading sets him apart from his peers.
MAHISHA MAYURATHAN
SHINING STAR
Meet 𝐌𝐢𝐝𝐝𝐥𝐞𝐬𝐛𝐫𝐨𝐮𝐠𝐡, 𝐄𝐧𝐠𝐥𝐚𝐧𝐝, 𝐔𝐊 based 𝐒𝐡𝐢𝐧𝐢𝐧𝐠 𝐒𝐭𝐚𝐫. This 11 year old represents 𝐀𝐫𝐜𝐡𝐢𝐛𝐚𝐥𝐝 𝐏𝐫𝐢𝐦𝐚𝐫𝐲 𝐒𝐜𝐡𝐨𝐨𝐥. Mahisha is a passionate young girl who loves donning multiple hats. She has been learning Bharatanatyam, Swimming, Ballet, Tap & Morden performances, Football, Judo, Gymnastics, Abacus Maths and English . She is also involved with many social causes. Writing is another passion of hers for which she has won awards and accolades.
DHYAANA HARIA
BEST PERFORMER
Meet 𝐋𝐨𝐧𝐝𝐨𝐧, 𝐄𝐧𝐠𝐥𝐚𝐧𝐝, 𝐔𝐊 based 𝐁𝐞𝐬𝐭 𝐏𝐞𝐫𝐟𝐨𝐫𝐦𝐞𝐫. This 10 year old represents 𝐆𝐥𝐞𝐛𝐞 𝐏𝐫𝐢𝐦𝐚𝐫𝐲 𝐒𝐜𝐡𝐨𝐨𝐥. She is a Young and upcoming musician – trained bansuri which is a bamboo flute player, violin player, and Hindustani classical singer. She has performed at prestigious venues like the Nehru Centre, Harrow Arts Centre, the School of Oriental and African Studies (SOAS) University of London, The Bhavan, and more. Having everyone captivated by her enthralling music performances, she is ready to leave a big mark in the world of music.