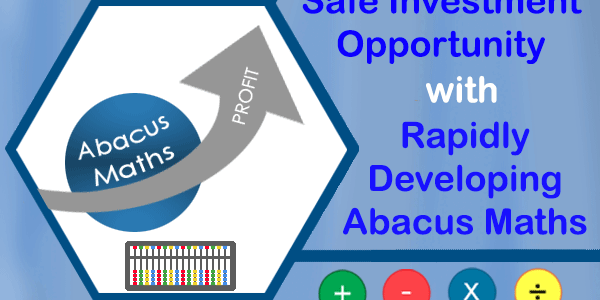 Investment Opportunities Scotland
We are opening in Edinburgh from Early next year. Safe long term investment opportunities are available with our rapidly developing ABACUS Maths classes in other areas of Glasgow or Edinburgh branch. Originally starting with just 4 students, we are now over 100 strong in just a year. Please enquire in the office for more info on this Investment Opportunities Scotland
We are looking to expand to other cities in Scotland depending on demand.
The British Youth International college abacus activities are focused to improve the mathematical skills and concentration for all age groups using methods such as assigned homework and classwork with tutors. It is not just providing the products & services; it is about developing and understanding the needs of every single student who are committed with us.
Our Abacus training materials have been carefully prepared in the industry and are simple to follow. The trainer just needs to follow the book and download the relevant training material. All extra downloadable training materials/worksheets are available in printout format. There are 8 levels which are are tailored to the pupils ability to understand the Abacus method. There is an exam conducted at the end of each level to determine if the pupil is ready for the next level. Students are promoted to the next level after successful completion of an exam. The British Youth International college  gives certificates of completion of the level to those who pass.
British Youth International college opportunity offers the best of business possibility through:
Low investment
Comparatively high income
Incomes could be expanded with add-on programs
Easy to start
Easy to operate
Respectable since the opportunity is in education
Scope for growth – More students, more income (Market Potential is very high) – Starting extension centre/s in one's own area.
If you are interested in learning and teaching abacus, and also own a computer, printer and have a broadband internet connection then you can invest in the British Youth International college Abacus teaching. The classes can be delivered from any place, even at your home.
If you wish to contact us regarding investment, you can do so here.
You can slo find out mroe information about our Abacus courses here.
Related Articles
10 Secrets Of A Successful Education Franchise
How To Start A Franchise Business? Research showing Abacus benefits!

Investment Opportunities in Flitton | Investment Opportunities in Flitwick | Investment Opportunities in Sandy | Investment Opportunities in Westoning | Investment Opportunities in Dundonald | Investment Opportunities in Holywood | Investment Opportunities in Berkshire | 
Investment Opportunities in Iver | Investment Opportunities in Littlewick Green | Investment Opportunities in Maidenhead |