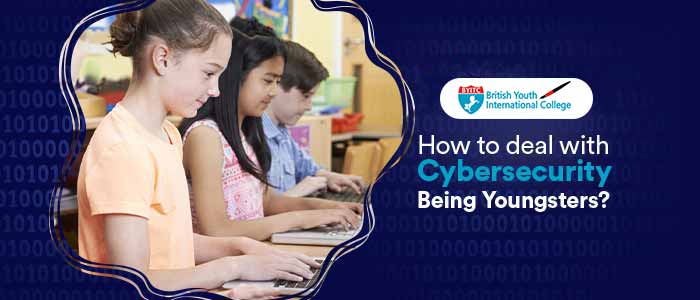 In today's interconnected digital landscape, the imperative to effectively deal with cyber security has never been more critical. Youngsters spend more time online and engage in a wider range of online activities than their adult counterparts. They spend more time connecting with friends, playing online games and learning new things. Lack of experience in life also puts them at greater risk of becoming the victim of online threats. So it is extremely important for youngsters to take Cyber Security seriously.
Deal with Cyber Security
Make sure to follow these tips to protect yourself for how to deal with Cyber Security threats.
i. Keep Your Passwords Private
No matter how trustworthy your online or offline friends are, you should never share your password with them.
Sharing passwords can risk getting impersonated by someone else
Remember that friendships may not last forever
Create a password that no one else can guess
It is recommended to use strong passwords and also use touch ID to lock your smartphone.
ii. Social Network Privacy & Safety
Social media sites provide you a great platform to spend time at and enjoy the company of friends. But they can also leave your vulnerable for all the information that you share. People can view your profile information and track your location.
Make sure to regularly update social media apps
Your friend circle should include people you can trust
Report any kind of harassment and avoid anyone sending you unwarranted messages
When using social media sites, it is best to protect your location and privacy.
iii. Choose Secure Networks
It has almost become a trend for the young to hunt around for Wi-Fi hotspots. It is important for you to realize that public networks are not fully secure. Hackers can connect to the work and can have access to your device or system. So you should not carry out all kinds of tasks when connected to such networks. If a task involves personal or financial information, you should always connect using a private network. Or else you can use a VPN to protect your identity.
So make sure to follow all these tips to deal with Cyber Security as a youngster. The internet may seem to be a beautiful place to be in, but it comes with its potential threats. Make sure you act smart and protect your interests at all times.
Related Articles
How to Ensure Internet Safety for Children?
Ensuring Cyber-Security For School Students
Cyber Security in North Yorkshire | Cyber Security in Essex | Cyber Security in Somerset | Cyber Security in Dorset | Internet Safety for Kids in Springs | Internet Safety for Kids in Fresno | Internet Safety for Kids in Memphis | Internet Safety for Kids in Charleston | Internet Safety for Kids in Indianapolis | Internet Safety for Kids in Baltimore | Internet Safety for Kids in Atlanta